Cambridge is a university city located 55 miles (88 km) north of London. The city lies at the heart of "Silicon Fen", a term given to the region around Cambridge that is host to more than 5,000 businesses involved in the knowledge economy, high-tech manufacturing, software and IT, and life science. Famous for the University of Cambridge, which was founded in 1209, the city is also home to the main campus of Anglia Ruskin University, which has its origins in the Cambridge School of Art founded by John Ruskin in 1858. Each university has just over 20,000 full time students. According to the Times Higher Education World University Rankings, the University of Cambridge is ranked No.3 in 2023 and has been ranked no lower than seven in the last 10 years.
The city is host to two NHS Foundation Trusts. Firstly, Cambridge University Hospitals NHS Foundation Trust, which comprises Addenbrooke's and The Rosie, a women's hospital, and regional centre of excellence for maternity care. Addenbrooke's is a leading national centre for specialist treatment in organ transplantation, cancer, neurosciences, paediatrics, and genetics. It not only serves as the affiliated teaching hospital for the University of Cambridge but is also an integral component of the National Institute for Health and Care Research (NIHR). As part of the Cambridge Biomedical Research Centre, it stands among the six academic health science centres within Cambridge University Health Partners (CUHP). Furthermore, Addenbrooke's plays a key role in the development of the Cambridge Biomedical Campus (CBC). Another significant institution is Royal Papworth Hospital NHS Foundation Trust. This establishment ranks among the foremost heart and lung hospitals in the UK.
Cambridge sits at the eastern end of the "Oxford - Cambridge Arc", where a recently announced new regional partnership board, backed by £2.5 million (€2.8 million) of government funding, will help Oxford and Cambridge compete for investment on the global stage. It is also an integral part of the hugely successful life sciences and technology "Golden Triangle" that includes Oxford and London. Trains run regularly into London King's Cross and Liverpool Street stations with the quickest journey time being under 50 minutes. The drive time into central London is approximately 1 hour 45 mins. London Heathrow airport is under two hours by car or public transport, with London Luton airport just over one hour by car and c.1 hour 30 mins by public transport, and London Stansted airport 50 mins by car and 30 mins by train.
Cambridge North and City Centre – major lab, technology, and innovation locations
The Cambridge cluster covers a broad geography encompassing a significant number of parks, campuses and proposed new developments This article will deal only with those in the northern arc of the city and city centre (a second article dealing with the southern area of the city will follow). The map below shows all the locations covered in this article except one which lies to the west (Cambourne Park) and two which lie to the north-east (Cambridge Research Park and Cambridge Innovation Park).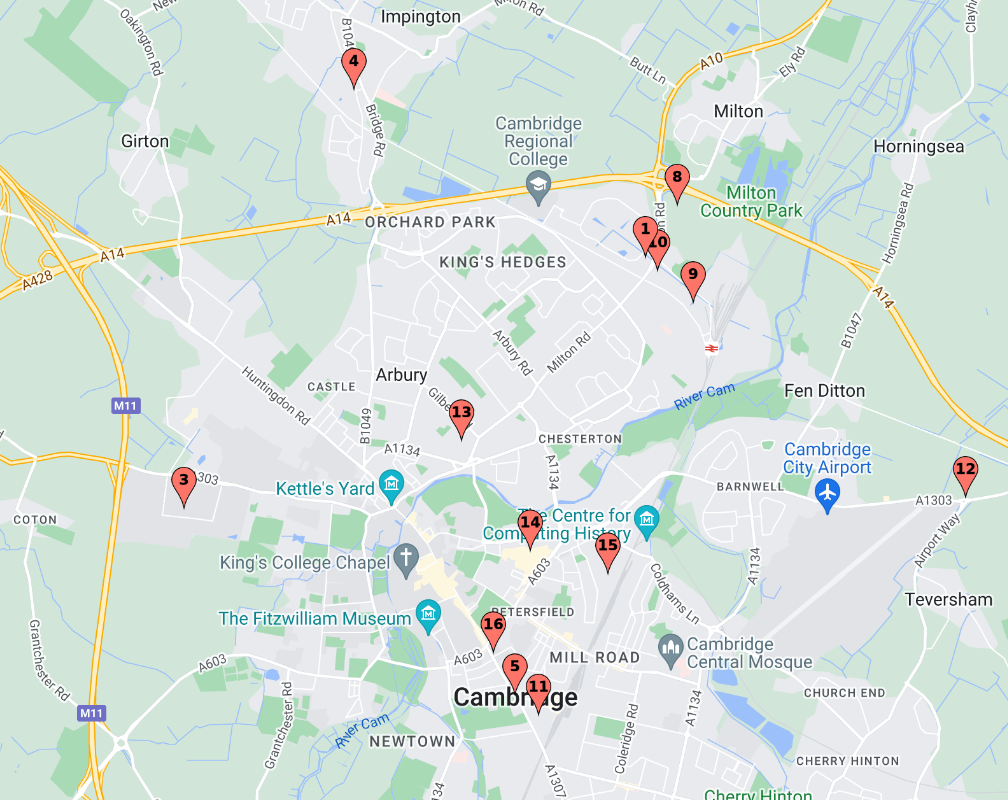 1.     Cambridge Science Park
Cambridge Science Park was established in 1970 when Trinity College Cambridge embraced a concept that would change the hi-tech and science sectors in Cambridge and beyond. It is the mother of all science parks. Located less than four miles (6.5km) north of the city centre, it comprises 152 acres (61 ha) and 1.9m sq ft (176,530 sq m) of laboratory and technical space. It is home to 7,250 staff and over 170 companies. About 40 per cent of the Park's 60+ buildings are owned by Trinity College and rented out at normal market income, while another 40 per cent are long leasehold interests of around 150 years, with Trinity receiving a cut of the rent. Significant long leaseholders that have recently bought in include Cadillac Fairview with Stanhope, Brockton Everlast, IQHQ and Oxford Properties, who have bought in with a redevelopment mindset. The remaining 20 per cent belongs to owner-occupiers who have bought long leases, such as Napp Pharmaceuticals and Cambridge Consultants.
The Park is undergoing an exciting phase of renewal with a comprehensive programme to improve outdoor spaces, transport, and amenities, as well as the development of state-of-the-art laboratories and offices. The Bradfield Centre (40,000 sq ft / 3,716 sq m), which opened in 2017, is a co-working building at the centre of the park that provides a collaborative, entrepreneurial culture to help grow Cambridge based businesses to a large scale. As companies scale and outgrow the Bradfield Centre they will be offered expansion space elsewhere on the Park. In 2018, Trinity College and TusPark, the development body of Tsinghua University, agreed a JV to catalyse the renewal and investment programme. TusPark Cambridge, within the Science Park, consists of 350,000 sq ft (32,926 sq m) of office/lab space across five new buildings, including a state-of-the-art Bio-Innovation Centre (40,300 sq ft (3,744 sq m). Tenants on the Park include Astra Zeneca, Bayer CropScience, Exscientia, Novogene UK, WorldPay, Roku, MathWorks, Microsoft, and Huawei.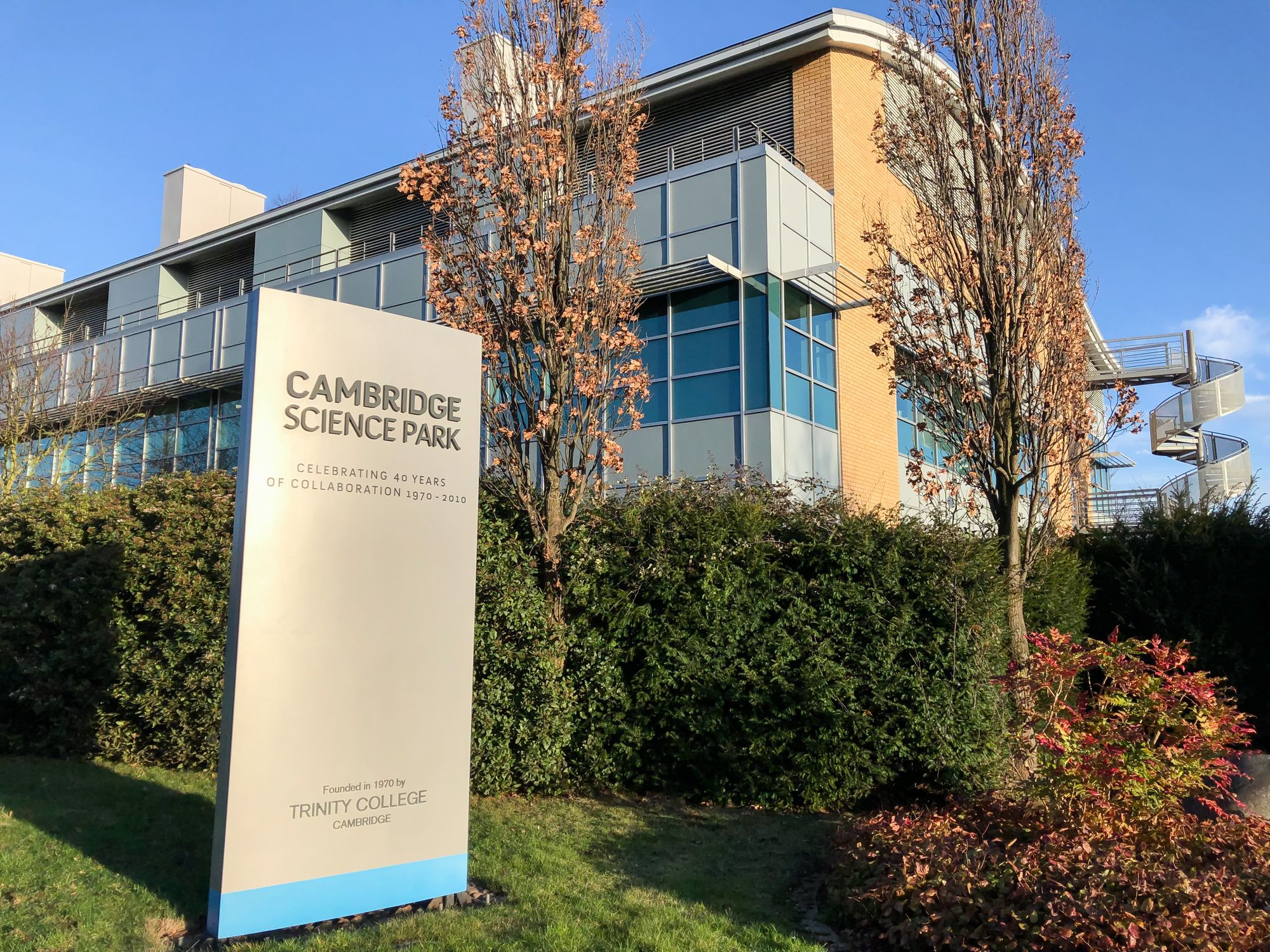 Opposite the entrance to Cambridge Science Park and adjacent to St John's Innovation Park, Kadans Science Partner has submitted planning for a seven-storey, 140,000 sq ft (13,007 sq m) building at Merlin Place. The design creates a flexible platform that can accommodate a wide range of biotechnology, pharmaceutical, med-tech and digital health companies incorporating modular wet and dry labs.